The Tyne Cot Memoial comemorates a total of 34,888 men who died in the Ypres Salient from 16th August 1917 to the end of the War and who have no known grave.

The memorial lies amid peaceful farmland which slopes gently up to the village of Passchendaele. Visiting the Memorial today it is almost impossible to believe that in the Summer and Autumn of 1917 it was a morass of shellholes, mud, shattered equipment and littered with the corpses of soldiers.

Many of these men would never be identified and their names would be carved into the panels of the memorial which stands there today.

In front of the Memorial is Tyne Cot Cemetery, still guarded in peace, as it was in war, by the brooding shapes of German pillboxes. The Cross of Sacrifice in the centre of the cemetery was built on top of one of these pillboxes, part of which can still be seen. This pillbox was used as a dressing station after its capture and the original cemetery grew up around it, as can be seen from the haphazard arrangement of the original battlefield graves nearby.

After the Armistice, the battlefields were cleared and the bodies found during the clearances, together with those from several nearby smaller cemeteries were concentrated in the Tyne Cot Cemetery.

This cemetery is now the largest Commonwealth War Graves Commission Cemetery in the world, with almost 12,000 graves.

Tyne Cot Memorial Certificate
~ View ~

Tyne Cot Memorial, Belgium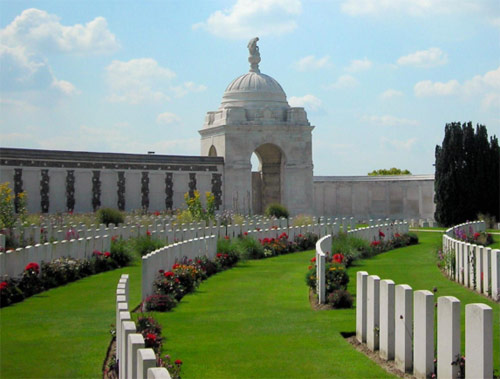 Memorial Reference: N.Z. Apse, Panel 2